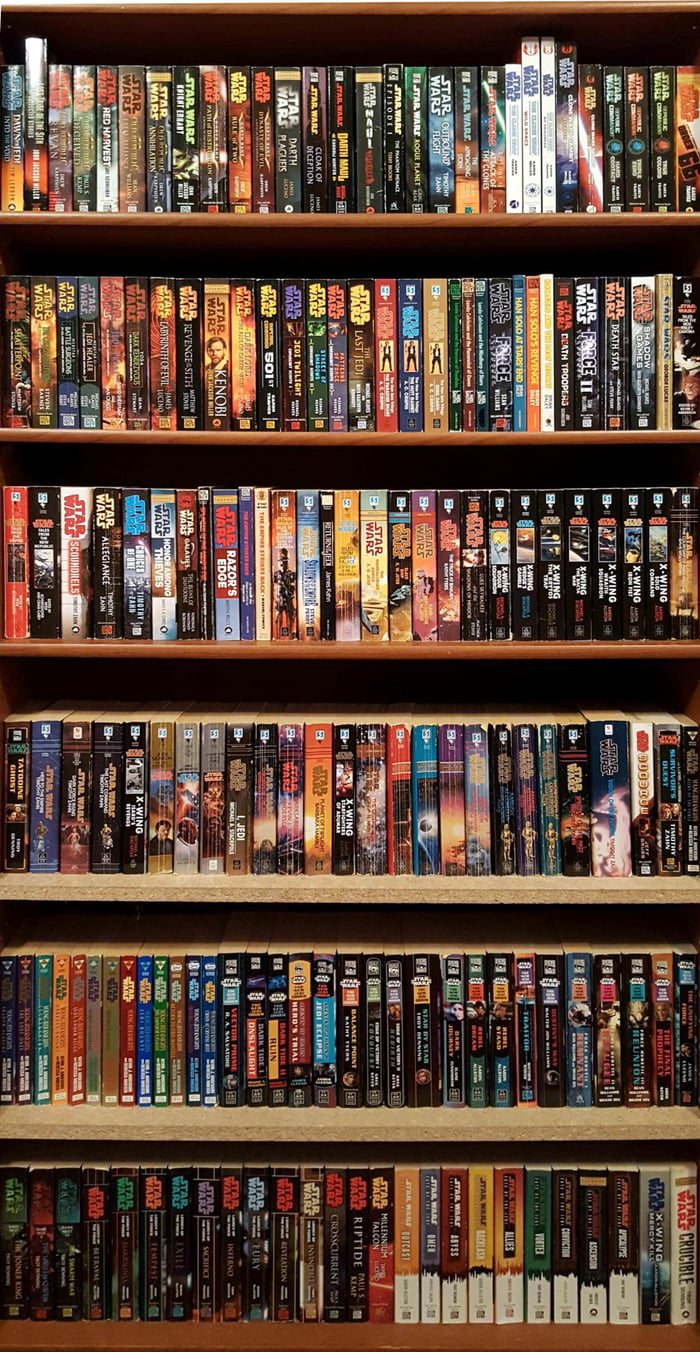 EU refers to all media of Star Wars that takes place outside of the movies. It stands for Expanded Universe, or Extended Universe. This is further broken down into two categories: Canon and Legends.
So what the heck is the difference between Canon and Legends books?
What's now considered the Legends books were written over many years both before and after Return of the Jedi, when everyone thought it was all done but wanted more Star Wars. Some continue the story of Luke, Leia, Han, et al; many are completely new characters; some go back and tell stories of the Old Republic; some even before the Republic. It's a vast, varied, and not always cohesive world.
Once Disney took over Lucasfilm and planned the sequel trilogy, all the books that came before were no longer considered "canon" (or the "official" story of what actually happened.) They were relegated to "Legends", and new canon was written with the new books.
Confused yet? Don't worry. If you're more interested in what's considered canon, stick with those. If you're okay with a little discontinuity and are curious, check out the Legends as well. It's all Star Wars, and it's all fun, so dig in!
I'll provide links to reviews as I read and write them. (I've included Young Adult novels in the Canon, since I enjoy reading them. They're specified by a YA after the title).
Canon:
The High Republic Era:
The Rising Storm
Out of the Shadows (YA)
The Skywalker Era:
Dooku: Jedi Lost
Queen's Peril (YA)
(Episode One: The Phantom Menace)
Queen's Shadow (YA)
(Episode Two: Attack of the Clones)
The Clone Wars (TV series)
Thrawn: Ascendency: Chaos Rising
Thrawn: Ascendency: Greater Good
Queen's Hope (YA) (Forthcoming)
(Episode Three: Revenge of the Sith)
Ahsoka (YA)
Lords of the Sith
Tarkin
Most Wanted (YA)
Thrawn
Thrawn: Alliances
Thrawn: Treason
Rebels (TV series)
Rebel Rising (YA)
(Episode Four: A New Hope)
From A Certain Point of View
Smuggler's Run (YA)
Battlefront II: Inferno Squad
The Weapon of a Jedi (YA)
Moving Target (YA)
Battlefront: Twilight Company
(Episode Five: The Empire Strikes Back)
From A Certain Point of View: The Empire Strikes Back 40th Ann.
(Episode Six: Return of the Jedi)
Alphabet Squadron
Shadowfall
Victory's Price
Last Shot
Free Fall (YA)
Force Collector (YA)
Tales From a Galaxy Far, Far Away: Aliens Vol. 1
Before the Awakening (YA)
Legends of Luke Skywalker (YA)
Canto Bight
(Episode Seven: The Force Awakens)
Cobalt Squadron (YA)
(Episode Eight: The Last Jedi)
Spark of the Resistance (YA)
Galaxy's Edge: Black Spire
Galaxy's Edge: A Crash of Fate (YA)
(I'm sure there's more and I'll fill them in when I become aware of them!)
Legends:
Before the Republic (37,000-25,000 years before A New Hope)
Dawn of the Jedi
Old Republic (5,000-67 years before A New Hope)
Lost Tribe of the Sith: The Collected Stories
The Old Republic: Revan
The Old Republic: Deceived
Red Harvest
The Old Republic: Fatal Alliance
The Old Republic: Annihilation
Knight Errant
Darth Bane: Path of Destruction
Darth Bane: Rule of Two
Darth Bane: Dynasty of Evil
Rise of the Empire (67-0 years before A New Hope)
Darth Plagueis
Cloak of Deception
Darth Maul: Shadow Hunter
Maul: Lockdown
Outbound Flight
(The Clone Wars TV series)
The Clone Wars: No Prisoners
Clone Wars Gambit:
Republic Commando

Hard Contact
Triple Zero
True Colors
Order 66

Shatterpoint
MedStar I: Battle Surgeons
MedStar II: Jedi Healer
Jedi Trial
Yoda: Dark Rendezvous
Dark Lord: The Rise of Darth Vader
Imperial Commando 501st
Coruscant Nights:

Jedi Twilight
Street of Shadows
Patterns of Force

The Last Jedi
The Han Solo Trilogy:

The Paradise Snare
The Hutt Gambit
Rebel Dawn

The Adventures of Lando Calrissian
The Force Unleashed
The Han Solo Adventures

Han Solo at Stars' End
Han Solo's Revenge
Han Solo and the Lost Legacy

Death Troopers
The Force Unleashed II
Rebellion (0-5 years after A New Hope)
Death Star
Shadow Games
(Episode Four: A New Hope)
Tales From the Mos Eisley Cantina
Tales from the Empire
Tales from the New Republic
Scoundrels
Allegiance
Choices of One
Honor Among Thieves
Galaxies: The Ruins of Dantooine
Splinter of the Mind's Eye
(

Episode Five: The Empire Strikes Back

)
Tales of the Bounty Hunters
Shadows of the Empire
(

Episode Six: Return of the Jedi

)
Tales from Jabba's Palace
The Bounty Hunter Wars:

The Mandalorian Armor
Slave Ship
Hard Merchandise

The Truce at Bakura
Luke Skywalker and the Shadows of Mindor
New Republic (5-25 years after A New Hope)
X-Wing

Rogue Squadron
Wedge's Gamble
The Krytos Trap
The Bacta War
Wraith Squadron
Iron Fist
Solo Command

The Courtship of Princess Leia
Tatooine Ghost
The Thrawn Trilogy

Heir to the Empire
Dark Force Rising
The Last Command

X-Wing: Isard's Revenge
The Jedi Academy Trilogy

Jedi Search
Dark Apprentice
Champions of the Force

I, Jedi
Children of the Jedi
Darksaber
Planet of Twilight
X-Wing: Starfighters of Adumar
The Crystal Star
The Black Fleet Crisis Trilogy

Before the Storm
Shield of Lies
Tyrant's Test

The New Rebellion
The Corellian Trilogy

Ambush at Corellia
Assault at Selonia
Showdown at Centerpoint

The Hand of Thrawn Duology

Specter of the Past
Vision of the Future

Scourge
Survivor's Quest
Jedi New Order (25-40 years after A New Hope)
The New Jedi Order

Vector Prime
Dark Tide I: Onslaught
Dark Tide II: Ruin
Agents of Chaos I: Hero's Trial
Agents of Chaos II: Jedi Eclipse
Balance Point
Edge of Victory I: Conquest
Edge of Victory II: Rebirth
Star by Star
Dark Journey
Enemy Lines I: Rebel Dream
Enemy Lines II: Rebel Stand
Traitor
Destiny's Way
Force Heretic I: Remnant
Force Heretic II: Refugee
Force Heretic III: Reunion
The Final Prophecy
The Unifying Force

The Dark Nest Trilogy

The Joiner King
The Unseen Queen
The Swarm War
Legacy (40+ years after A New Hope)
Legacy of the Force

Betrayal
Bloodlines
Tempest
Exile
Sacrifice
Inferno
Fury
Revelation
Invincible

Crosscurrent
Riptide
Millenium Falcon
Fate of the Jedi

Outcast
Omen
Abyss
Backlash
Allies
Vortex
Conviction
Ascension
Apocalypse

X-Wing: Mercy Kill
Crucible